The Voicemail® Story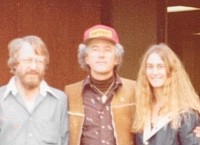 Voicemail Inc Founders
A revolution in communications!
​On December 9, 1978, Paul Finnigan placed a telephone call that would forever change the world of communications.  The call was answered by a newly released Apple II desktop computer that delivered a voice message... "Hi Paul its Dow... I hope you have a very Happy Birthday... you can send a 30 second reply after you hear the beep"......... beep!
"Thanks Dow for the birthday wish... Voicemail is now a reality... great job partner!" 
Televoice International Inc. was founded in 1979 to create and deploy the most efficient method of voice communication since the invention of the telephone. The first public, long distance voice messaging service was introduced in May, 1980.  The service was later trademarked "Voicemail®" and the company name was changed to Voicemail International.
Paul Finnigan, Dow Brian and Paula Paige were seasoned veterans in applications development with previous successes in information systems, communications, voice processing and other solutions employing the latest developments in computer technologies. The treo had previously developed and marketed an information system to hospitals and clinical laboratories worldwide. The system eventually included delivery of patient test results to physicians by telephone from which the Voicemail concept was born.     
The initial concept of exchanging messages between individuals would prove to be cost prohibitive and would be delayed until reductions in the cost of message storage could be achieved.  In the mean time, Voicemail was able to identify many opportunities for broadcasting a single message to hundreds and thousands of recipients that offered the potential for efficiencies, cost savings, user benefits and profits. 
However, the potential impact and exposure that Voicemail created for companies carried significant operational and financial risks. Without exception, the involvement of the top management of the company was essential. Fortunately, the front offices included many "early adopters" who would or could take the time necessary to understand the Voicemail opportunity and feel comfortable in making a favorable decision.   ​ 
Getting the attention of CEOs was no less difficult than articulating a concise "elevator story" that would demonstrate how effective Voicemail could be for their specific applications.  In the end it took forward thinking CEOs to visualize the potential and have the willingness to accept the risks to the company and personal careers in proceeding with the program.  
NEEDLESS TO SAY, VOICEMAIL FOUND MANY OPPORTUNITIES TO DEMONSTRATE THE POWER, PERFORMANCE AND PROFITS THAT VOICEMAIL COULD DELIVER!