The Good, Bad and Ugly!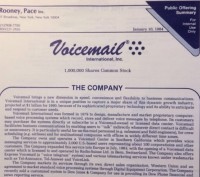 The startup funding for Voicemail International was secured though the sale $25,000 units of common and preferred shares to 12 sophisticated investors that included a airline founder, a technology CEO, an advertisement executive, an auto dealer, former associates, former customers and a family member.  The funds provided for the purchase of a development systems and creation of the first production Voicemail system.  Several of these investors participated in subsequent rounds of financing that carried the program through the initial marketing program and were invited to join the board of directors.   With several purchase agreements signed and production moved into high gear, the company turned to venture capital funding.
Warburg Pickus negotiated a fair valuation by telephone but at the closing at their NYC offices, WP cut their verbal offer in half and Voicemail declined.  Voicemail was eventually able to secure an investment from Pacific Capital for $250,000 and with continued success in the telecom market and additional sales, the decision was made for an initial public offering.  
However, underwriters Rooney Pace were unable to place any portion of the offering.  Pacific Capital found a lone foreign investor in Singapore who was very interested in the program. The investor owned a gambling casino in Jakarta and had previously seen a demonstration of Voicemail. He arrived at the Voicemail facilities with an associate from Bank of America and the next day all parties traveled to the Rooney Pace's office in Manhattan where the stock purchase of $5 million was concluded.

Voicemail went on winning over its competition to become the leader in the international services market with the largest, most reliable, telecom / call center grade product with a stelar record for performance and support and recent profitability. This caught the attention of an investor that resulted in the purchase of a controlling interest that proposed board actions that compromised Voicemail's services oriented business strategy. 
THE BEGINNING OF THE END WAS IN SIGHT!