Information Services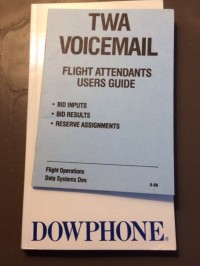 THE CONCEPT WAS EASY TO UNDERSTAND!
While the initial phase of Voicemail services centered the recording and delivery of voice messages, the key to reaching critical mass was the broadcasting of "information" to large numbers of individuals. Crew schedulers recorded flight assignments, departure times and overnight hotel bookings. Information providers set up studios and hired professionals to record news updates and stock price changes.
Voicemail was delivered in natural human voice based on information that was stored in digital form on large scale data storage computer systems and accessed through remote terminals located in call centers worldwide. The information was indexed and categorized with keys and codes that subscribers entered to retrieve the specific messages or information, e.g. Personal Identification number, flight number, product model number, etc.
A key Voicemail achievement created a bridge between the data storage computers and the Voicemail system. Voicemail created a library of natural voice words and phrases that the Voicemail system could use to construct (concatenate) and deliver information to callers. Voicemail information services eliminated the need for manual recording of flight schedules, professionally recording news, product information, etc.. and while the voice generated sounded a little different that human voice, it communicated the message effectively at a great saving in cost. Information services took the lead in the Voicemail market and maintains that lead to this day!
VOICEMAIL DATA STORAGE SERVICES - A NEW WAY TO DELIVER INFORMATION!